It was in 1985 when Bolz, located in Wangen, Germany designed the first Ball segmented valve for their Conical Vacuum Dryer. The design which was produced still has similarities with the current Techno-G valve range. The valve head, called "Kalotte" was designed with a spherical shape and already had a full bore opening under the conical dryer. Bolz later became part of MPE-Group. In 1991 Summix, also part of MPE group together with Terlet designed a range of Ball Segment Valves and redeveloped this range further as a standard product range, suitable for Vacuum systems for solid handling. This range was then called "Techno-G". In April 2007, Techno-G Solids Handling & Processing BV, Zutphen Holland (By Terlet BV) took over the Ball-Segment- Valve business of MPE Group GmbH Bolz-Summix in Wangen, Germany. 2 years later in 2009, Heinkel Drying and Separation Group took over the Ball Segment Valve business from Terlet and still does. The brand Techno-G was moved to Jongia NV in 2020 since Jongia NV has been producer of the Ball Segment valve. With a steadfast dedication to excellence, our experienced team at Jongia has played a significant role in the development and success of the Ball Segment Valve. In 2021 the redesigned new Techno-G brand and ball segment valve range was introduced for the market. As your trusted partner, we are committed to providing flawless products and exceptional support throughout the entire lifecycle of the Ball Segment Valve, from initial inquiry to seamless delivery, installation, and continued assistance.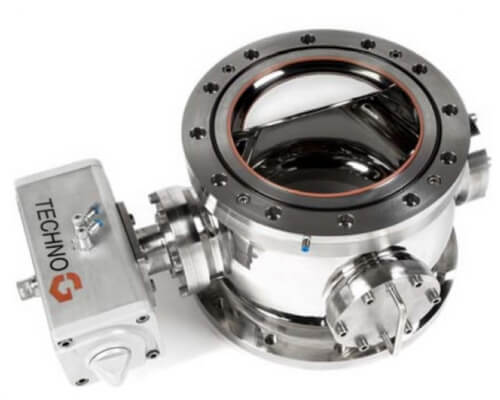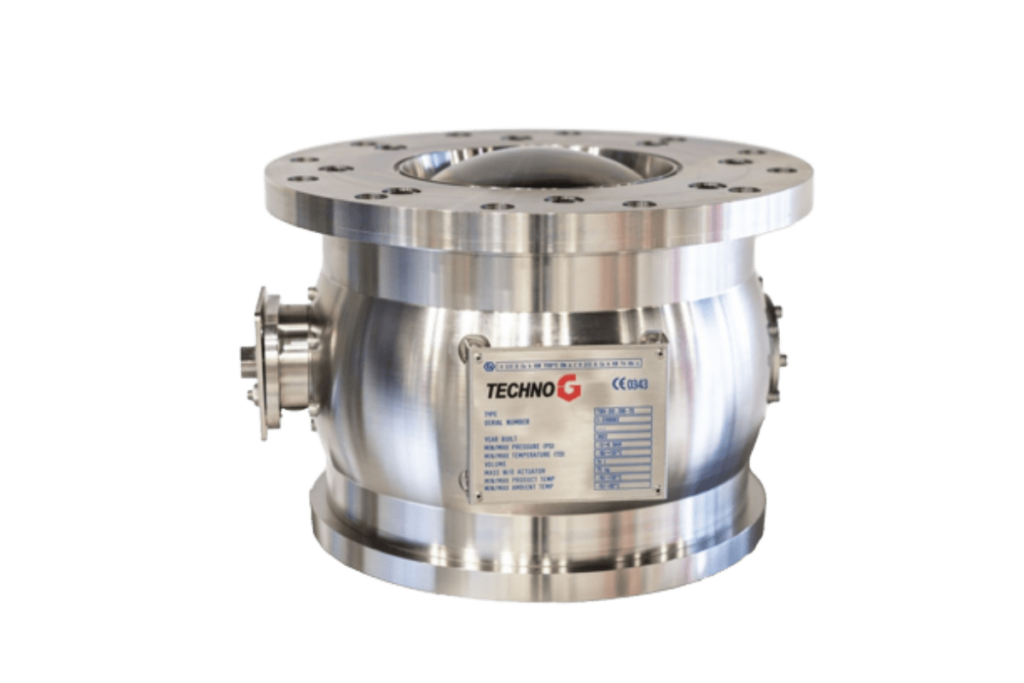 At Techno-G, we are constantly striving for innovation and improvement in the Ball Segment Valve designs. We have made several enhancements to better serve your needs. These changes include incorporating inbound bearings, resulting in a reduction of material in the housing, making the valve lighter and more efficient. We now use Teflon gaskets as a standard, ensuring reliable sealing performance. Our modular bearing assembly allows for easier maintenance and shorter lead times, as we keep components in stock. Also we are working on having the full range type approved. This enables us to supply much quicker, since all materials and components are ready for assembly on-stock!
Moreover, the Ball Segment Valve, originally designed to meet the specific requirements of vacuum drying and pressurized process reactors, has evolved into a versatile solution applicable across a broader range of industries. Our valves feature precision-machined seats and special bearings, ensuring excellent vacuum and pressure-tight sealing. The unique inflatable seal design caters to various process demands and product requirements. With these advancements, Techno-G remains dedicated to delivering high-quality valves that excel in performance and reliability. Please find more information about our latest 3D printed executions in Titanium and other alloys under this link:

Proud part of Jongia Mixing Technology
Jongia Mixing Technology, established in 1937, has over 85 years of experience in designing and producing agitators and mixers for the process industry and is providing us with extensive knowledge of various process industries, as well as an understanding of market-specific trends, requirements, and needs. With an unwavering commitment to continuous innovation, Jongia consistently delivers optimal process results. As a leading supplier of innovative stirring and mixing equipment, Jongia has established a prominent position in the process industry, exporting their high-quality mixers and agitators worldwide. Supporting their global reach, Jongia operates subsidiary branches in Germany, the United States and China, alongside a network of associated companies worldwide.
SPECIFY A TECHNO-G VALVE FOR YOUR APPLICATION
Since the establishment of the first Ball Segment Valve, we have undergone continuous development over the years. Discover more about Techno-G's history through a timeline summary highlighting key milestones.
1985
First development of the Ball Segmented Valve by Bolz in Wangen, Germany.
1991
Summix and Terlet, under the MPE group, co-designed a product range optimized for vacuum systems and solids handling and named it Techno-G.
2009
Since 2009, the Heinkel Drying and Separation Group has proudly led the Ball Segment Valve business.
2020
In 2020, the Techno-G brand moved to Jongia NV, the producer of the Ball Segment Valve.
2021
In 2021 the redesigned new Techno-G brand and ball segment valve range was introduced for the market.
AND ATTENTION TO DETAIL FOR YOUR PRODUCTS
Located in Leeuwarden, at the heart of the Netherlands' Stainless Steel Valley, Jongia NV is uniquely positioned to deliver unparalleled standards of quality and performance.
Surrounded by an array of stainless steel production and manufacturing firms, along with an efficient supply chain, we are committed to exceeding industry standards in product excellence and completeness.
Our highly skilled engineering team has designed the Techno-G Ball Segment Valve on a modular platform. Utilizing state-of-the-art CNC machinery available in our own production facility, we ensure the highest level of craftsmanship and precision.
We warmly invite you to visit us and experience our operations firsthand. We'd be delighted to welcome you to our premises and give you a tour.