The Ball Segment Valve for enhancing solids handling
Tom
As a process engineer in industries like pharmaceuticals, chemicals, or food, you understand the importance of efficient handling and control of solids, fine chemicals, and bulk materials. Traditional valves may fall short in providing accurate control and preventing disruptions in product processing. However, there's a solution that offers exceptional performance: the ball segment valve with inflatable seal.
In this article, we'll delve into the world of ball segment valves and explore how they enhance the handling and control of various materials.
Add a header to begin generating the table of contents
What is a ball segment valve?
The ball segment valve is a type of control valve that provides precise control over fluids and materials in various applications. Unlike conventional ball valves, the ball segment valve features a segmented ball with a contoured flow path, offering several advantages such as improved flow control, reduced dead space, and minimal product damage. At Techno G, we specialize in producing high-performance segmented ball valves for diverse industries, ensuring reliable operation and efficiency.
The inflatable seal as key feature
The inflatable seal is a key feature of the ball segment valve, distinguishing it from traditional valves. This specialized seal design ensures a tight and leak-free closure, making it ideal for handling challenging materials. It enhances safety and reliability, particularly when dealing with dangerous or flammable chemicals. The inflatable seal's adaptability to extreme temperatures and demanding applications provides optimal performance, making the ball segment valve a trusted choice for precise and secure solids handling in various industries.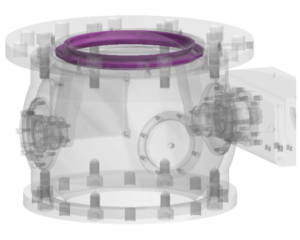 The inflatable seal ensures a secure and reliable closure, making it a valuable component for efficient vacuum-based processes.
Advanced trims for optimal performance
Ball segment valves from Techno G incorporate advanced trims that optimize their performance. With advanced coating technology and erosion-resistant trim components, our valves are capable of handling even the most abrasive materials. The adjustable shaft seal allows for precise adjustment, ensuring a tight and leak-free seal. Moreover, the balanced seat design prevents disruptive pressure drops and enhances the valve's lifespan.
Accurate control and handling of materials
In applications requiring precise control over materials, ball segment valves excel. Their design with metal seats ensures excellent sealing performance, making them suitable for both on-off and control applications. The segment ball valve's capacity control valve enables seamless adjustment of material flow, allowing process engineers to maintain accurate control over the handling of solids, fine chemicals, and bulk materials.
Enhanced safety and reliability
When working with dangerous or flammable chemicals, safety is paramount. Ball segment valves provide a reliable solution by offering bidirectional sealing and a protected sealing area. The inflatable seals used in our segmented ball valves further enhance safety, preventing leakage and ensuring optimal performance even in extreme temperatures or demanding applications.
SPECIFY A TECHNO-G VALVE FOR YOUR APPLICATION
SPECIFY A TECHNO-G VALVE FOR YOUR APPLICATION
The ball segment valve as the ultimate solution
The ball segment valve stands out as the ultimate solution for handling and controlling solids, fine chemicals, and bulk materials. The innovative design and specialized features address the unique challenges posed by these substances.
When it comes to solids handling, the ball segment valve excels at managing abrasive, moist, and adhesive materials. The valve's precise machining, combined with its special bearings, ensures a vacuum and pressure-tight seal, guaranteeing efficient and reliable operation. The inflatable seal design, tailored to individual process requirements, further enhances its versatility.
Unmatched control over flow
For fine chemicals and bulk materials, the ball segment valve offers unmatched control over flow rates, allowing for precise regulation and modulation. The internal corner-free and edge-free housing of the valve ensures compliance with cGMP requirements while providing ample space for the ball segment to move clear of the product flow path when opened.
With its exceptional sealing capabilities, precise control, and adaptability to a broad range of applications, the ball segment valve emerges as the go-to choice for industries dealing with solids, fine chemicals, and bulk materials. Its reliability, efficiency, and ability to meet diverse process demands make it a trusted solution for optimizing handling and control in these industries.
Versatility for various industries
Our ball segment valves find application in a wide range of industries. From pharmaceuticals and chemicals to food and cosmetics, our valves offer a versatile solution for handling diverse materials. Their compliance with common industry standards and use of compliant materials, such as AISI 316L stainless steel, make them suitable for stringent requirements in food-grade applications.
Ball segment valves find extensive applications across a broad range of industries. Their unique design, combined with their ability to handle cohesive materials, free-flowing powders, and viscous fluids, makes them versatile for different material types. Whether it's controlling the flow of abrasive products, regulating the discharge of abrasive slurry applications, or ensuring the precise handling of fine chemicals, ball segment valves provide a reliable solution. Their wide range of applications makes them a go-to choice for process engineers seeking efficient handling and control of solids, fine chemicals, and bulk materials.
REACH OUT TO OUR EXPERT TEAM FOR YOUR INQUIRIES
REACH OUT TO OUR EXPERT TEAM FOR YOUR INQUIRIES
Efficiency and cost savings
In addition to the superior performance, ball segment valves also provide cost efficiency. Their backlash-free torque transmission and efficient control valve design reduce energy consumption and minimize costs associated with valve repairs. With Techno G's economical valve sizes and a range of segment valves available, you can select the optimal valve for their specific application requirements, ensuring an economical and effective choice.
Control valves and accessories
Ball segment valves are not standalone components but often work in conjunction with various control valves and accessories to enhance functionality and customization. For instance, the addition of a control ball valve solution allows for precise flow control, enabling process engineers to adjust material flow rates according to the application's requirements. Control valves with features like adjustable seating and different trim options provide flexibility in meeting specific control needs. Additionally, accessories such as positioners, limit switches, and solenoid valves further enhance the valve's automation and monitoring capabilities, optimizing the handling and control of solids, fine chemicals, and bulk materials.
Ball segment valves represent a significant advancement in the handling and control of solids, fine chemicals, and bulk materials. With their advanced trims, adjustable sealing, and exceptional control valve performance, these valves offer a reliable and efficient solution for process engineers across industries. Our high-quality segmented ball valves, designed with the buyer persona of a process engineer in mind, provide the necessary features and versatility to optimize operations and ensure accurate control. Embrace the benefits of ball segment valves and elevate your handling and control capabilities in your industry.